Terms of Ownership
This work is part of Flip City, a 2014 series by Jonas Lund which consists of forty paintings.
Each work has attached to it a GPS tracking device which will identify the general location of the work (city, zip or postal code and country).
The Artist will maintain a website (flip-city.net) which will include images of all forty paintings as well as the current general location of each work. He will regularly update the website to account for any changes of location.
By purchasing this work, Buyer explicitly agrees to all of the terms of ownership herein described and that he/she will not tamper with nor remove the GPS tracking device.
As the GPS tracking device runs on a lithium battery that has a finite life span (it is supposed to last up to three years), Buyer agrees to cooperate with Artist should the battery need to be replaced.
Buyer agrees to inform a subsequent Buyer that the GPS tracking device is an integral part of this work.
Buyer agrees to inform a subsequent Buyer that he/she must register his/her ownership with Artist at flip-city.net for the express purpose of replacing the battery when necessary.
Should Buyer or subsequent Owner consign this work to an auction, the consignor is obligated to inform the auctioneer that the work is to be sold with the following condition included in the catalogue description: "The buyer of this lot is obligated to register his/her ownership with the artist (Jonas Lund) at flip-city.net and agrees to the terms of ownership as stamped on the back of this painting and on the Certificate of Authenticity."
These terms apply to each successive Owner of this work.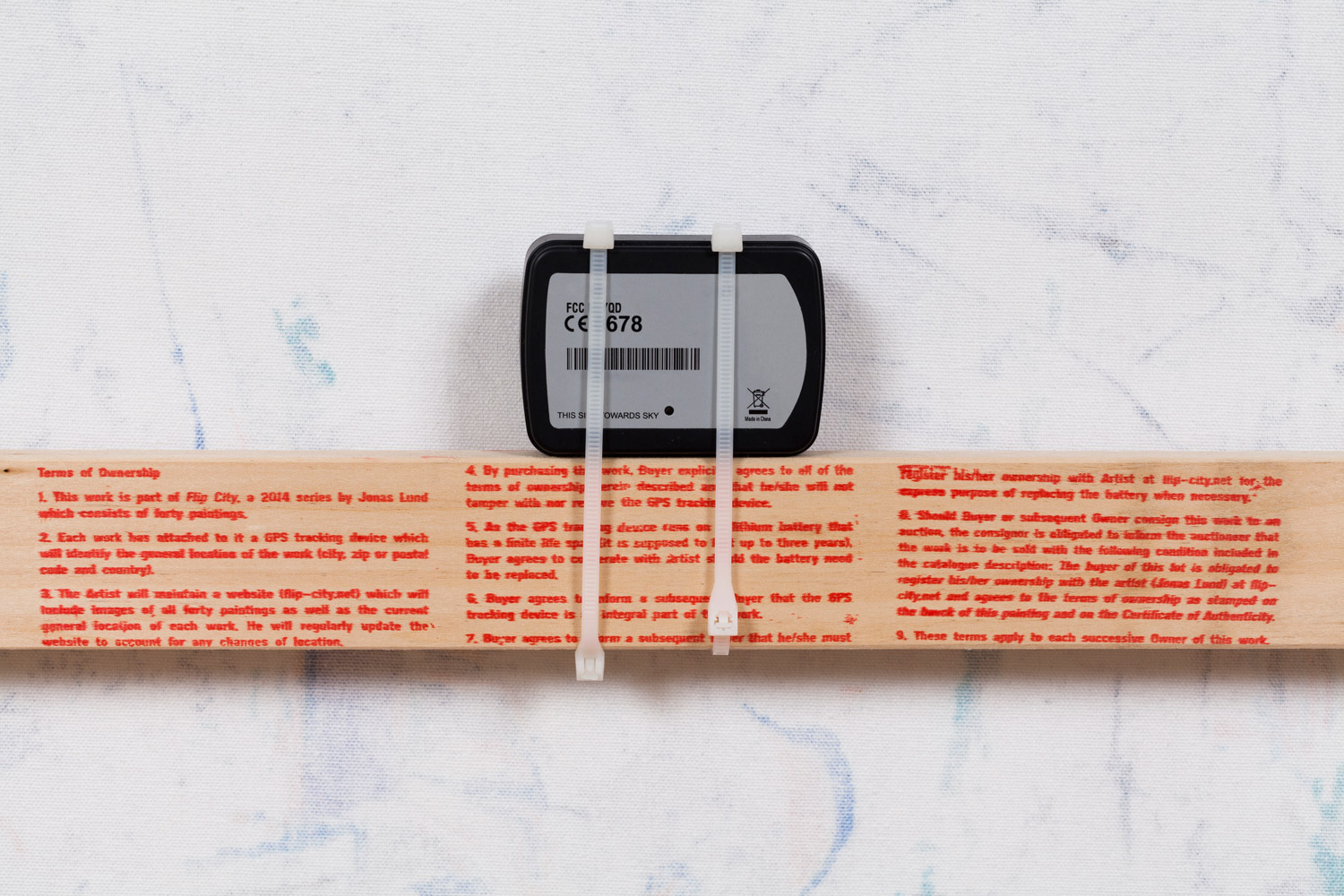 Terms of Ownership stamped on reverse with GPS tracking device